Look, I realize this is not groundbreaking news here.  And saying "Wow the dentist is awful" is pretty much the observational equivalent of "Breaking: Better Places to Spend Your Time than the DMV."  Whatever.  I just went this week and every time I set foot in that place, my hatred is re-birthed with a new fervor. 
The Reminder Postcard.  It's the end of the long day.  You've arrived home and are tending to the mail.  Oh how nice of her to send a card! Oooh People magazine! 
OMG WTF is this!?!?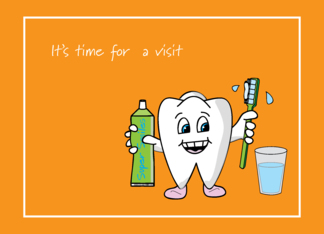 Oh hahahahahahaha aren't you dear I HATE YOU.
Wha…. Whuh…. how is this possible?! I was just there…. LIKE….. 8 weeks ago!?!?  I mean, just yesterday I was sitting there in the chair, penning my own damning reminder card, knowing I was the furthest possible amount of days away from my next trip.  
BS Cancellation Policies.  From there, the dread builds until the day has arrived.  And if you're like me, you start to cycle through the stages of grief, usually getting hung up at "bargaining" and trying to rationalize an excuse out of it.  On the day of my appointment this week, I made the most excellent decision of enjoying some office holiday awesomeness in the form of Harry and David's Moose Munch.  Is there ANYTHING yummier than that filth? NO.  Except then I was like Oh CRAP I'm supposed to be at the friggin' dentist later today. OH I KNOW I'LL CANCEL IT.  Not like I can walk into the dentist all "Oh hi….Don't mind this layer of caramel on my molars! This is totally a one time thing and not indicative of my daily habits at ALL."
Me: Umm hi.  I have an appointment later? If I cancel now will I get char…
Evil Dental Office: Yes.
Me: Oh.  OK.  Umm, see you later than I guess.
Coming Clean About Lackluster Dental Habits.  Does your dentist do this? First the hygienist grills me my relationship with my teeth and asks me how many times I floss during the week. 
"Well… some weeks I floss, like, every day! Other weeks, umm, less than that.  And by less I mean more like zero." 
"OK.  We'll say 3 on average then.  It says here you were flossing 5-6 times a week last time you were here."
"It's possible that was an exaggeration of the truth." (Note to self: Keep better track of lies.)
"OK.  How about fluoride?"
"Pass?" 
The Television. Unless I am missing the "Induced Coma" channel, there is no possible television programming that could possibly make me feel any better about what's happening.  Plus, it introduces another element of pressure to choose something socially acceptable.  I'm not sure what normal people watch, but if I'm at home by myself I'm watching Big Cat Diary or Secretly Pregnant or men's gymnastics.  Other people need not know this.
The Stabby Ice Pick Device Thing.  This is THE PINNACLE of dental awfulness.  The cleaning is underway and I'm being stabbed with a pointed object, flinching and whimpering and gazing up at my masked hygienist with desperate, pleading eyes.  "Is that sensitive there?" she says.  SENSITIVE? Lady we moved from "sensitive" to "OMFG PLEASE DESIST" like 8 teeth ago.   
X-Rays.  Correction.  These are the pinnacle of dental awfulness.  Hate.  Going in the thing looks like a harmless little plastic circle but in reality feels like you're gumming a jungle machete.  And then the hygienist sort of ambles over to the button on the wall to take the picture and I'm like "Move, woman… MOVE!" And does your dentist have this? Mine is all high-tech and the images flash right on a screen on the wall.  So I'm sitting there praying for nice, clear images of my poor teeth yet half expecting…
Which brings me to…
X-Ray Re-Dos.  Correction #2.  This is the worst  part.  This is reasons I want to impale the dentist numbers 1 through infinity.
Flouride.  After about 8 seconds my gag reflex is on Tom Ridge Threat Code Red.  The stuff actually doesn't taste that bad, it's just the pressure of sitting there for sixty seconds trying not to gag and spew it all over yourself, or worse, swallow it after being warned by the hygienist to "Whatever you do DO NOT SWALLOW THIS."  Can someone tell me what happens if you ingest flouride? If I had to guess I'd say it was certain and instantaneous death.  This is what I try to remind myself of when I'm sweating bullets at second 49 and starting to see the face of God.
Desperate Longing for the Water Hose.  The only thing that gets me through the horror of the stabbing, the disgusting "polishing," and the X-Rays is the thought of the sweet succour of the water hose.  And its equally soothing partner, the yin to its yang, the sultan of suction, ladies and gentlemen give it up for your friend and mine, MR. THIRSTY.  At my dentist, after the flouride they hand Mr. Thirsty right over to me and tell me to suck to my heart's content.  I mouth that thing with an enthusiasm that can only be likened to the famous Virgin Diaries first kiss:
Encore Appearance from the Stabby Ice Pick Device Thing.  The hygienist is just giving you a final once-over before turning you over to the dentist and she's all "Oh… what's… Is that…. a micron of Moose Munch I still see on your right lateral incisor? Here… lemme just…. get that for you quick…" 
Condescending Douchebag Dentist.  Seriously I hate mine.  This week he told me he was putting 4 molars on the "cavity watch list" and then followed up with these condescending gems: "I'm trying to work with you here, but you have to work back." And "You don't have to floss every day, only days when you chew something."  Well is that a fact? Come to think of it, an eating disorder would be better than having to come back here.  And sorry that I have a life that doesn't involve being a fetish-y, tooth-obsessed, dentist weirdo like you.  Whatevs.  Turd.  We're done here for 6 months.  Suck my tartar, dude.